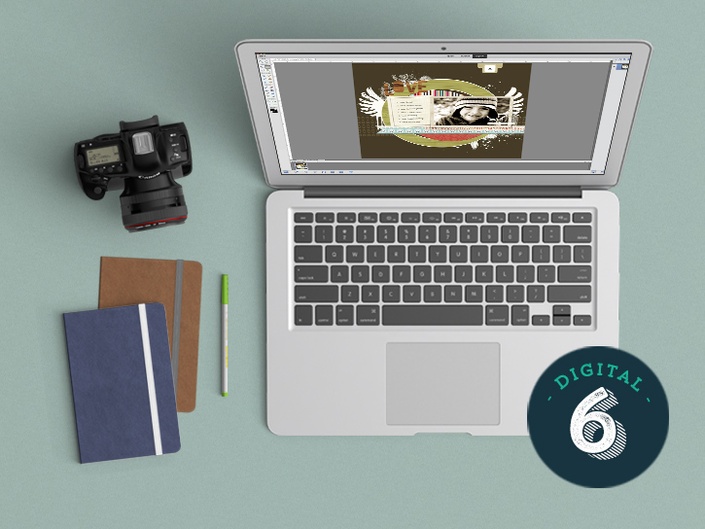 Digital 6: New Digi Tricks
Learn dozens of new techniques and create 8 gorgeous pages!
Ready to Learn Some New Digital Tricks?
Have your digi skills gotten a little rusty over the past year or two (ahem, or longer)? You've got amazing stories to tell, and you know you need to get cracking on some of those gorgeous photos you've collected! Maybe you've just gotten engaged and you'd like to tell your story as you approach your wedding, or you're having a baby, or you have a newborn? Perhaps you're a mama or a grandma watching children you love grow up before your very eyes. The stories of YOUR beautiful life deserve to be told, and there's NO better way to tell them than with digital scrapbook pages. It's 2020 and a GREAT time to refresh those techniques, learn a ton, AND create 8 GORGEOUS layouts! Wait til you see what's in this new course!
Class begins on February 11, which is PLENTY of time to get your skills brushed up and get ready for class! I can't wait! Now how about a peek?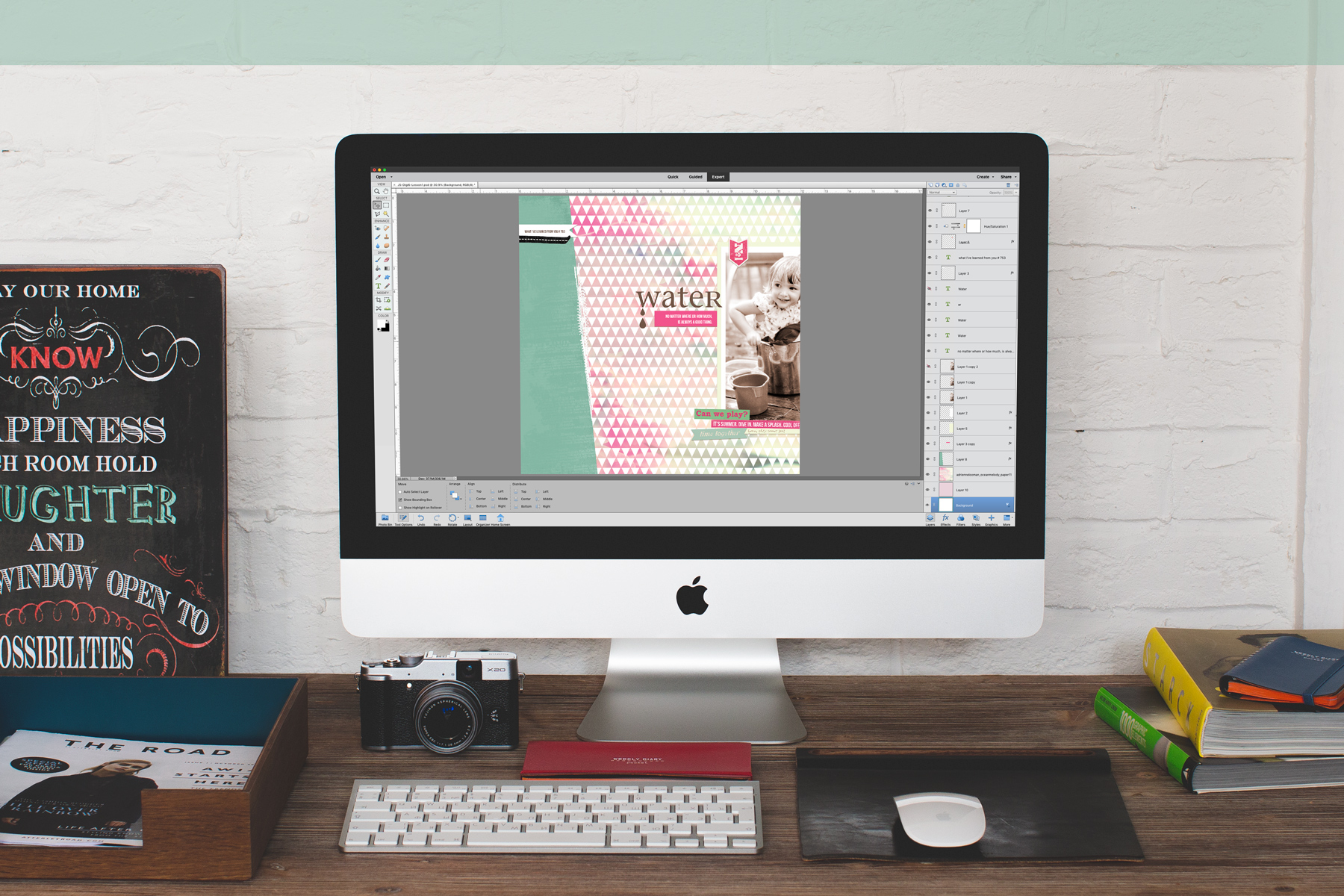 Our Goal: Build Skill & Create Lovely Layouts!
In this brand-new 2020 class, I'll walk you through four gorgeous intermediate-level layouts, each packed with techniques I don't teach anywhere else, plus four "recipe" layouts that invite you to hone your design skills and have great fun. This class builds on the material we've worked on in the previous five classes, moving to a new level of skill and complexity, and creativity. Time to stretch those wings! Digital 6: New Digi Tricks is the third in the INTERMEDIATE group, and the 6th overall. All the content and concepts are brand new! I cannot wait to show you what awesome things we can make together!

With all the supplies, downloads, video instruction and new content, this class is valued at more than $250!
Lesson one contains a massively massive digital kit AND tutorials on organizing your supplies in either Photoshop Elements Organizer or Adobe Bridge. You'll love getting started with organizing as a special bonus!
---
What You'll Learn
You've come to the spot in your Photoshop journey where YouTube and one-off tutorials just won't cut it anymore. If you want to really dive deeper and learn Photoshop in a really comprehensive way, you need a teacher and a plan. Guess what! You'll have both!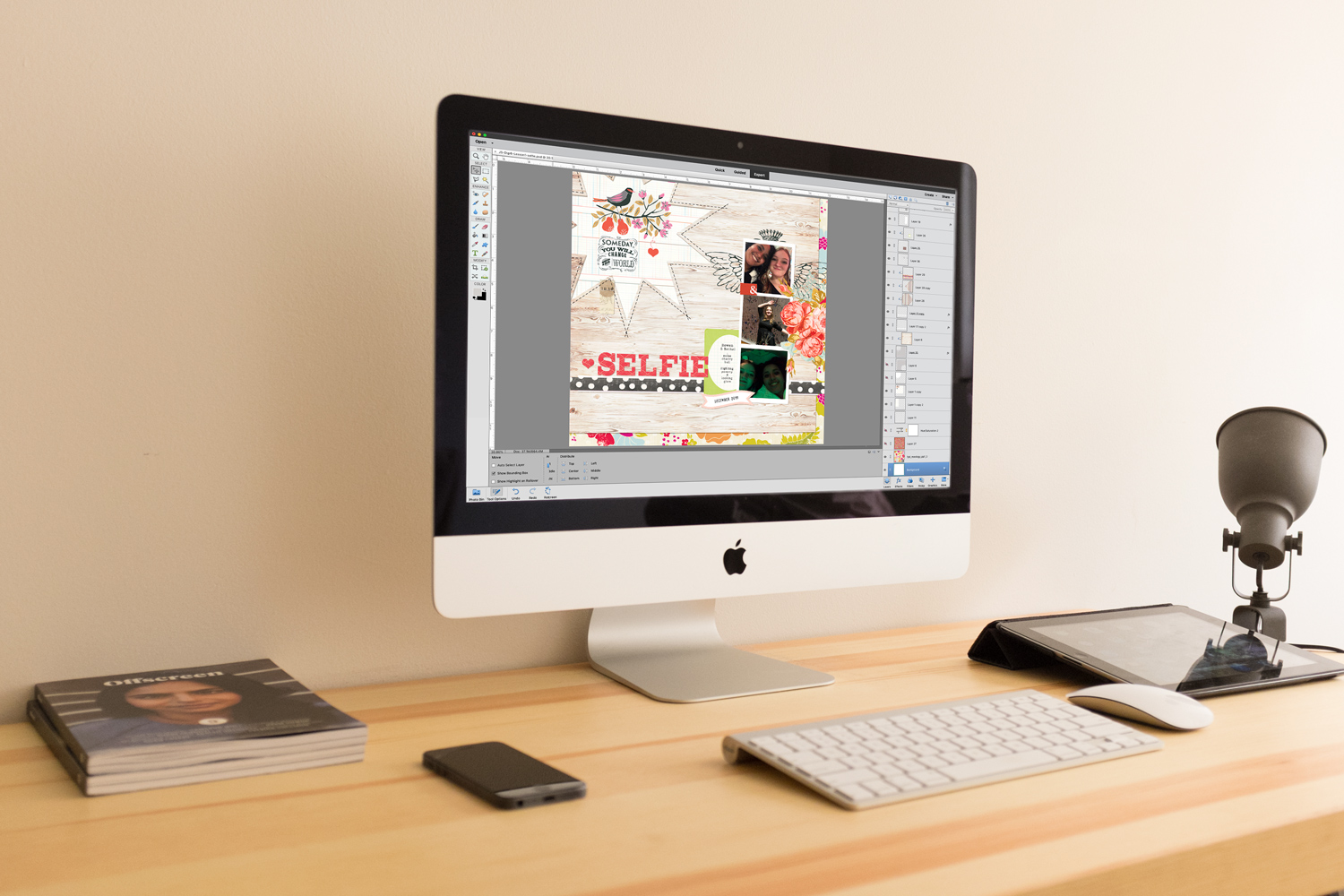 By now, you've taken the first 5 courses, or you've got a few months' experience in Photoshop. With that as your starting point, you'll be amazed at how much you can do with the techniques I teach, including how to:
Create a two-page digital scrapbook page in Photoshop
Use the Photoshop drawing tools to create your own clipping masks
Copy and reuse type layers
Use Photoshop tools to recolor, resize, and combine layers for a whole new look to patterned paper and embellishments
Use time-saving hotkeys
Cut apart a two-page spread into single 12x12 documents for printing
Make design decisions as I guide you through what to look for and how to achieve your perfect style
And more!
But these aren't all! In addition to each lesson you'll receive "Recipes" for projects that build off the main lessons, as well as templates for both additional layouts and mini-albums with the same designs to mix and match.And don't forget the awesome digital supplies you'll get with EACH Lesson and Recipe - a $60 value!
What You'll Need To Know
In addition to your open and excited mind (and nimble mouse-and-keyboard fingers), you'll need any version of Photoshop. (I'll be using Photoshop Elements in my Digital 6 videos, with explanations of any differences between that and Photoshop CC). By now you know that this is an intermediate level class. ;) So in order to be 100% successful, you'll need to know a few basics already. In the videos and recipe lessons, I'll assume that you know how to:
Download and unzip files
Download and install fonts and brushes
Open, close, and start new blank files
Open templates and use clipping masks
Use the Move, Type, and Brush tools
Save files for .psd, print, and the web
If you need refreshers on any of these basics, check out my Digi 1 course, and the rest of the digital classes to dust off those skills before coming to class! I want you to be successful in Digi 6. Of course if you have questions, please don't hesitate to ask. The prerequisite for this cass is the successful completion of the following, or their equivalent:
Digital 3: You're Wild and Free
Digital 5: Creativity Comes Alive!
---
What to Expect in Class
Here's what you can expect in class! I can't wait!
Video Instructions
All of the classes here at JessicaSprague come with gorgeous video-based instruction, broken down into individual tasks within each lesson. This bite-sized approach to Photoshop makes it easy to understand, and you'll be amazed at what you can accomplish!
Step By Step
Our Digital 6: New Digi Tricks class has four main lessons, where I'll walk you step-by-step through intermediate digital scrapbook layouts. You'll find each task broken down into separate videos, AND a PDF guide so you can follow along.
Complete Supplies
Each of the layouts and recipes in our class come with ALL the materials you'll need to complete that project, minus the photos and your beautiful and heartfelt journaling.
Self-Paced Lessons
After each lesson is released (each Tuesday and Friday for 4 weeks), it'll be completely self-paced and allows you to work independently at a speed that's just right for YOU. Stop and start and replay any segment of any video.
Interactive Community
At the end of each lesson is a comment space where you can post your finished project, praise the hard work of your fellow classmates, and ask and answer questions about the lesson materials, contents, or techniques!
Permanent Access
As always, every course you take at JessicaSprague.com is YOURS FOREVER.
Delight Guaranteed
I want for you to be both successful AND delighted with our course! f you aren't 100% satisfied, delighted, and overjoyed with all your projects and progress within 14 days of the start of our course, simply contact me and we'll give you a full refund, no questions asked.
I'll Be Right There With You
The Digital 6: Creativity Comes Alive course is the next step in the JessicaSprague Digital courses!. By the end of class, you will not only know Photoshop techniques and when to use them, but you'll have created 8 brand-new layouts using your new toolbox! How awesome is that? We love to see your photos and cherished albums, and with every JessicaSprague.com course, there are many different ways to get in touch to show off your art, or ask a question! Register now, and I'll see you in class!
Your Instructor
Hi there! I'm Jessica Sprague, owner and instructor here at JessicaSprague.com. I founded JessicaSprague.com in 2007 to share the creative potential of Photoshop for crafting. I've been teaching Photoshop and graphic design, photo editing, digital scrapbooking, e-commerce, and online school development for a decade. It's my goal to help you build the skills and knowledge that will last you a lifetime. Learn more about me. Are you ready to start the journey? Join me!
Course Curriculum
Introduction
Available in days
days after you enroll
Lesson 1: Bonus Kit Download & Organize
Available in days
days after you enroll
LESSON 2: Photo Assignments & Vintage Editing
Available in days
days after you enroll
Frequently Asked Questions
When does the course start and finish?
The course opens on February 11, 2020 and never ends! The lessons go live 2x a week for 4 weeks, and you get it forever! It is a completely self-paced online course - you decide when you start and when you finish.
How long do I have access to the course?
How does lifetime access sound? After enrolling, you have unlimited access to this course for as long as you like - across any and all devices you own.
What if I am unhappy with the course?
We would never want you to be unhappy! If you are unsatisfied with your purchase, contact us in the first 14 days after class begins and we will give you a full refund.
What You'll Get

Great Value: Content & Materials worth $250.00
As both an instructional designer AND a graphic designer, I've spent 10 years developing a curriculum with Photoshop techniques to give YOU the skills you need to bring all your projects to life. You'll learn to be a Photoshop ninja much more quickly, supported by an entire framework of techniques to mix and match as the curriculum goes on. The cost of other Photoshop classes can run more than $200 per course for a few hours in a classroom. With my courses, you'll bet a better, more targeted skillset, PLUS the materials and videos available to you forever.
Detailed HD Screencasts, Delivered by a Pro
All of the classes here at JessicaSprague come with gorgeous video instruction, broken down into project-based lessons and individual tasks within each lesson. This bite-sized approach to Photoshop makes it easy to understand, and you'll be amazed at what you can accomplish in just 30 minutes at a time! You can see first hand what I'm demonstrating, then try it for yourself right there! The freedom to rewind, relisten, and rewatch makes this course easy to follow, even with the most complex techniques. I'm right beside you the whole way!
Techniques You'll Use Forever
As a scrapbooker, instructional designer, and graphic designer, I teach techniques you'll find most useful, most interesting, and which deliver the best results throughout every layout you make. You'll gain the skills, knowledge, and confidence to create scrapbook pages that make your heart sing! I love watching pages come together, and I LOVE seeing students' work! I can't wait to see yours! Let's unfurl those creative wings together, right here!
Everything But the Photos
All you need for this class are your photographs! I'll provide downloads for everything you'll need to complete each project. In addition to the lesson projects, I'll offer challenges, extra information, links, downloads, and other materials designed to enhance your experience and deepen your understanding of how to use Photoshop. This is about YOU - your investment in yourself, and I can't wait to share what I know!
Permanent Access, at Your Pace
You'll take the class completely at your own pace (you never need to be online at a specific time), and all of the course materials are available to you FOREVER from your My Classes page here at JessicaSprague.com. Our classroom also features a private forum where you can ask and answer questions and participate in discussions, as well as share your beautiful work with me and the other students!
Register now! I can't wait to see you in class!