It's gonna be the best year yet.
When it comes to scrapbooking, a year can be everything! And with each year, brings new and exciting moments in your and your family's life! Recording the stories each year may seem liken a daunting task, but with Digital Project Life, we'll have you recording your weekly events EASILY. I can't wait to show you all the techniques you'll need to make gorgeous pages to tell the stories of your life this year. This course is open for enrollment ALL year long, so you can join at any time and receive all the previous materials! *Project Life is a registered trademark of Becky Higgins, LLC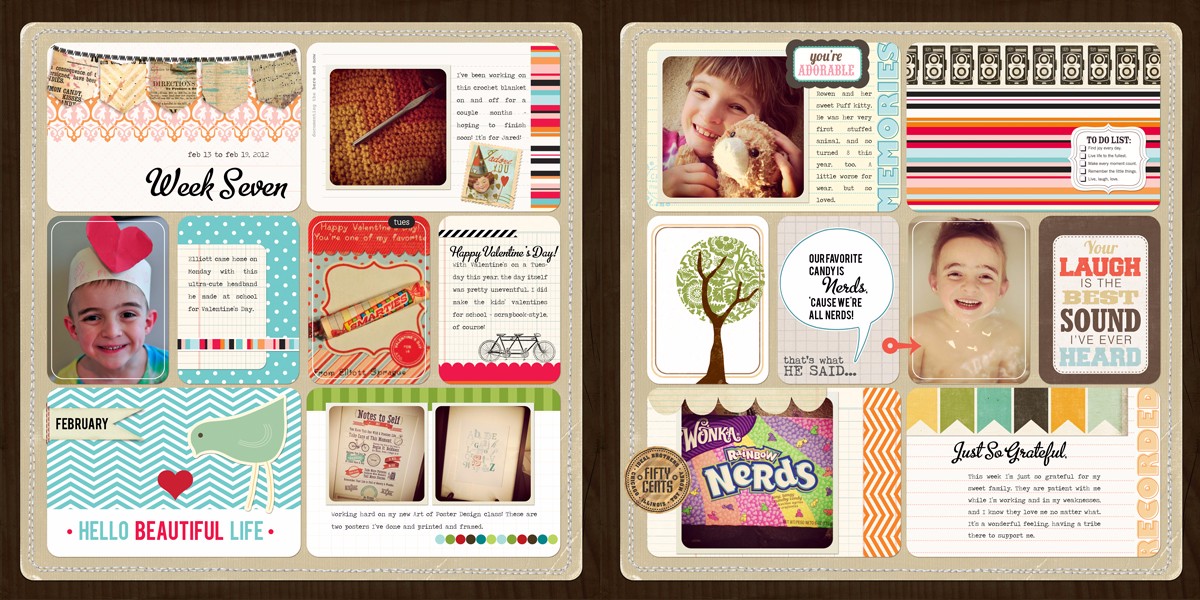 Our Goal: Document "A Year In Your Life"
Project Life is more than a way of scrapbooking. It's an entire approach to memory keeping, even a way of looking at, photographing, savoring, and saving the bits and pieces of your life. As a revolutionary new take on the traditional paper Project Life approach, Becky has devised a series of templates and digital materials designed to create Project Life pages in Photoshop, so you can complete an entire gorgeous, detailed album in a year, every year. In addition, I'll show you how to use your skills and the digital goodies from this course to work on past years or projects simultaneously! You'll LOVE being able to complete a week-by-week album this year, PLUS your daughter's baby album, your son's school scrapbook, or any project that makes your heart sing! Come join me in class!
---
What To Expect in Class
This is THE place to start if you've been collecting photos and meaning to gather and write about them, but haven't found or developed a routine to get them done! In class, you'll receive:
Video lessons for creating your own Digital Life Album
PDF copies of instructions, so you can print them out and refer to them as needed
Step by Step instructions on how to use Photoshop to create your album, including how to add type, layer masks and embellishments
A digital kit that includes dozens of embellishments
Jessica's very own Project Life workflow
Disclaimer: the supplies shown in the example photos may not be included in the class kit
---
What You'll Learn
Here is a list of the lessons we'll work on, as I walk you through the basics of creating Digital Project Life pages. I reserve a whole lesson at the end for some of the workflow hacks I've developed that will have you creating pages more quickly!
Here's how the class will go:
Lesson 1: Introduction & User Interface
Lesson 2: Clipping Masks for Cards
Lesson 2: Adding Photos
Lesson 3: Adding Type to your Pages
Lesson 4: Adding Embellishments
Lesson 5: A Full Page: Start-to-Finish
Lesson 6: Digital Project Life Insider Tricks
Lesson 7: Printing: a Primer
---
I'll Be Right There With You
Digital Project Life has the ability to change your life. At the end of class, you'll have developed your own workflow, that works for YOU. You'll be well on your way to completing your first album of a Year In Your Life. That story that you will be creating will be yours, and it is the creating of that story that I wanted to share with you. Register now, and I'll see you in class!