NOTE: This class belongs to my Family History series, register for all three at a discount!

Write your history on your walls

There is power in knowing your people - in discovering the names and faces of those who you belong to, who've gone before and paved your way. The author Alex Haley said,
"In all of us there is a hunger, marrow-deep, to know our heritage- to know who we are and where we have come from. Without this enriching knowledge, there is a hollow yearning. No matter what our attainments in life, there is still a vacuum, an emptiness, and the most disquieting loneliness. "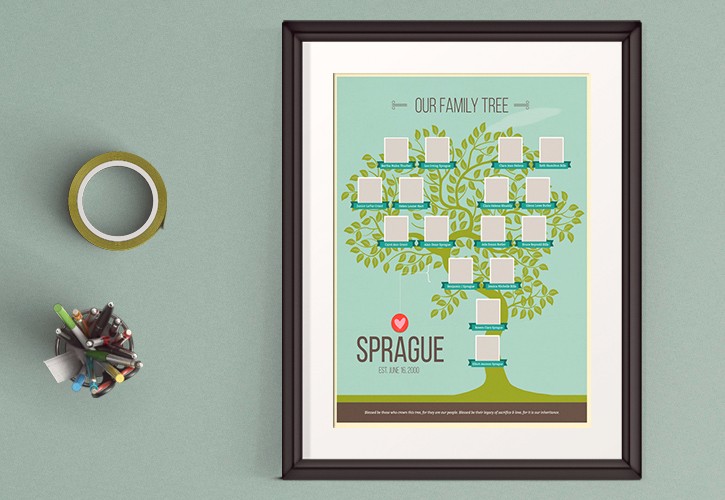 Our Goal: Display Your Family History in a Beautiful Wall Art Poster
In this self-paced, project-based class, you'll use Photoshop (or Photoshop Elements) to share your family tree with pride! Studies have shown that children who grow up in homes with family photos (and photos of them) on the walls are happier and more secure as adults. What better way to show your loved ones exactly where (or is that who?) they came from, than in this gorgeous family tree poster? Easy enough to complete in an evening (minus the stories you'll need to stop and tell about each photo), this poster can help you jump-start your own family history journey, or help you spark interest for a special recipient. Want an incredible, meaningful gift? Imagine your poster gracing the walls of your loved one's new home, or the mantelpiece of your parent, or your children or grandchildren.

You can choose to start your tree with yourself at the bottom, which then would chart your parents, grandparents, and great-grandparents. Alternatively, you can start the tree with your child at the bottom and yourself as one of the parents, to be able to capture both sides of your child's family. I'll show you how to complete the poster either way!
What To Expect from Class

All of the classes here at JessicaSprague come with gorgeous video instruction, broken down into project-based lessons and individual tasks within each lesson. This bite-sized approach to Photoshop makes it easy to understand, and you'll be amazed at what you can accomplish in just 30 minutes at a time!

You'll receive:
Two step-by-step video lessons to walk you through creating the poster from start to finish, recorded in BOTH Photoshop CC and Photoshop Elements.
One poster template in .psd format, ready to add your own photos, graphics, and family name
Placeholder graphics, in case you can't find one of your ancestors' photographs
A downloadable PDF step sheet, so you can follow along with the video
My love & friendship (oh, and as always, the ability to contact me with any questions you have, or even request a mentor for in-depth guidance)
This class is powered by a premade .psd template to begin our project, and is accompanied by an in-depth video lesson, where I'll show you how to:
Add photos to your poster
Change the photos to black and white, and add contrast using the included adjustment layers
Change the text labels
Draw a lined bracket to set off your own photo and your last name
Save the poster in printable format
---
How To Prepare for Class
In this particular project, it will pay to get ready early. Here's what you'll want to begin gathering. I'll provide you with guidance on finding vital information as well as (possibly!) photos or news articles as part of class:
One Formal Photo for each set of ancestors - preferably wedding photos of your parents, your grandparents, and your great-grandparents. These will be the section headers, and this will be the main photo in that page.
I'll Be Right There With You
By the end of class, you will have learned new Photoshop techniques, while creating a gorgeous four-generation Family Tree poster! How awesome is that? We love to see your photos and cherished albums, and with every JessicaSprague.com course, there are many different ways to get in touch to show off your art, or ask a question! Register now, and I'll see you in class!