Ready to Get Started?
Hi there and welcome to Hybrid Project Friday! We are excited to bring you fun printable projects.
In this project, Tori will be showing us how to print a map of the USA and customize tags to mark those special places! She has also included a fully-layered template so you can customize your own map with other papers or even photos! Here's what the printable will look like: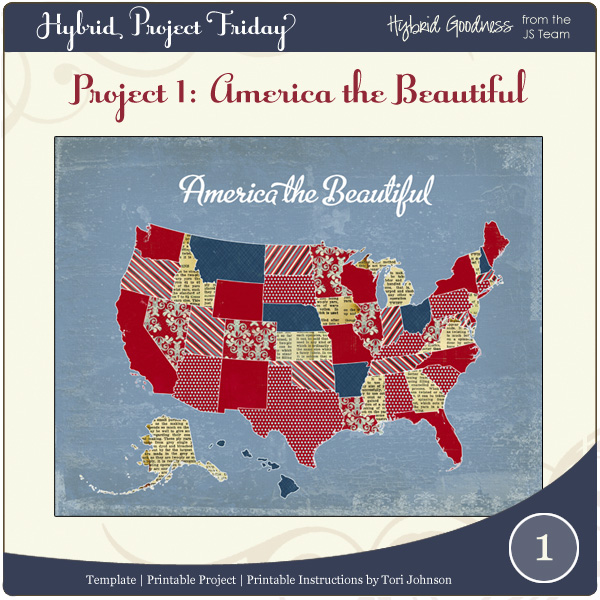 Our Goal: Displaying Your Memories in an Unique Way
In this quick, self paced class, you will learn how to use the custom shape tool to create an one of a kind page, perfect to show off the family photos you absolutely love!
What To Expect from Class

All of the classes here at JessicaSprague come with gorgeous video instruction, broken down into project-based lessons and individual tasks within each lesson. This bite-sized approach to Photoshop makes it easy to understand, and you'll be amazed at what you can accomplish in just 30 minutes at a time!

You'll receive:
Step-by-step video lessons to walk you through creating the page from start to finish
Templates to help you along the way
My love & friendship (oh, and as always, the ability to contact me with any questions you have, or even request a mentor for in-depth guidance)
This class is powered by a premade .psd template to begin our project, and is accompanied by an in-depth video lesson, where I'll show you how to:
Use the custom shape tool
Add complementary papers
Change and add text
How To Prepare for Class
For this particular project, you will need:
I'll Be Right There With You
By the end of class, you will have learned new Photoshop techniques, while creating a gorgeous scrapbook page! How awesome is that? We love to see your photos and cherished albums, and with every JessicaSprague.com course, there are many different ways to get in touch to show off your art, or ask a question! Register now, and I'll see you in class!