Dear DIY Goddess: Christmas is Coming!
You know the "just for display" table you have in your entryway? Or maybe it's in the hall, or in the living room. That one DIY table one we decorate (or want to decorate) for every season, every month. Heidi Swapp and I have teamed up for a special Holiday edition of Mouse, Paper, Scissors just for Christmas! We'll help you take that holiday decor table to the next level!
In this class, we'll show you how to create a detailed, gorgeous, interactive, FUN display that will be the centerpiece of your holiday home decor. We've got NINE projects for Christmas and we can't wait to show you!
---
Heidi + Jessica: DIY LOVE!
Heidi and I have taught courses together FIVE different times, and we love it! Part of our secret is that we play to our strengths. During my portion of the class, I'll be showing you Photoshop techniques that will get you rolling toward your ultimate destination: printing and joining Heidi in her studio for the makery! I'll begin each project lesson by showing you the overview of what we'll make, and then I'll walk you step-by-step through the process! I'll show you techniques in Photoshop using fonts, brushes, and patterns to add your own twists to the printable materials, and then we'll get making! Heidi and I have each taken on the challenge of creating our own unique displays using the same artwork and techniques we show you in class, so you'll get TWO takes on the displays themselves. Of course, we'll provide you with detailed explanations in a video walkthrough, and we'll provide links to additional pieces or supplies we've used. Some of the dozens of techniques you'll learn include:
- How to create printable Photoshop documents as frameable art, or for banners & layering
- How to add interactivity to your display with little extras such as velcro, magnets, and write-ons
- How to use Photoshop to add lettering, combine graphics, and use digital elements to create printable artwork
- How to create your own printable lightbox art in Photoshop

- Our best advice on our ink, paper, and process for printing great artwork every time
---
Our Time-Saving Secret: Remixing

Of course we ALL want that freshly-Pinned look for our own homes, but the reality of life (family? work? what?) is that we NEED to be able to create in a manageable timeframe so we can get 'er done and get on to enjoying it. Our time-saving secret is that we're using the same basic elements for Christmas and holidays after! We'll give you a jump-start for every holiday display you make, because it's the framework you'll build your entire display from. We'll assume you can get your hands on the following (or their equivalent). These are available at Michaels or Michaels.com:
- The Heidi Swapp Lightbox
- The Heidi Swapp clipboard set (3 pieces) - one letter-sized and two 6x8 inch sized
- The Heidi Swapp marquee light strand & bulb caps
NOTE: If you don't have a lightbox, you can simply print the lightbox artwork and frame it!
---
What You'll Need
In this course, you'll rely heavily on your own tech workhorses: your computer, Photoshop (or Photoshop Elements), and your trusty printer. Note from Heidi: "I print about half of my DIY stuff at Staples, and about half at home. I like having both options!"
You'll also need basic supplies such as adhesive, trimmer, scissors, twine, a new set of ink (for your yet-to-be-named printer), and some paper to print on. We'll give you the whole list when you register, plus our suggestions for the supplies we use!
---
Projects Large & Small
Our Christmas display contains LOTS of projects (6 large and 4 small), which you'll have forever-access to starting right now! All of the projects will be available the first week of December, so don't delay! Here's a peek at the first project, a DIY Light-up tree using basic supplies and the Marquee lights and bulb caps from Heidi Swapp @ Michaels: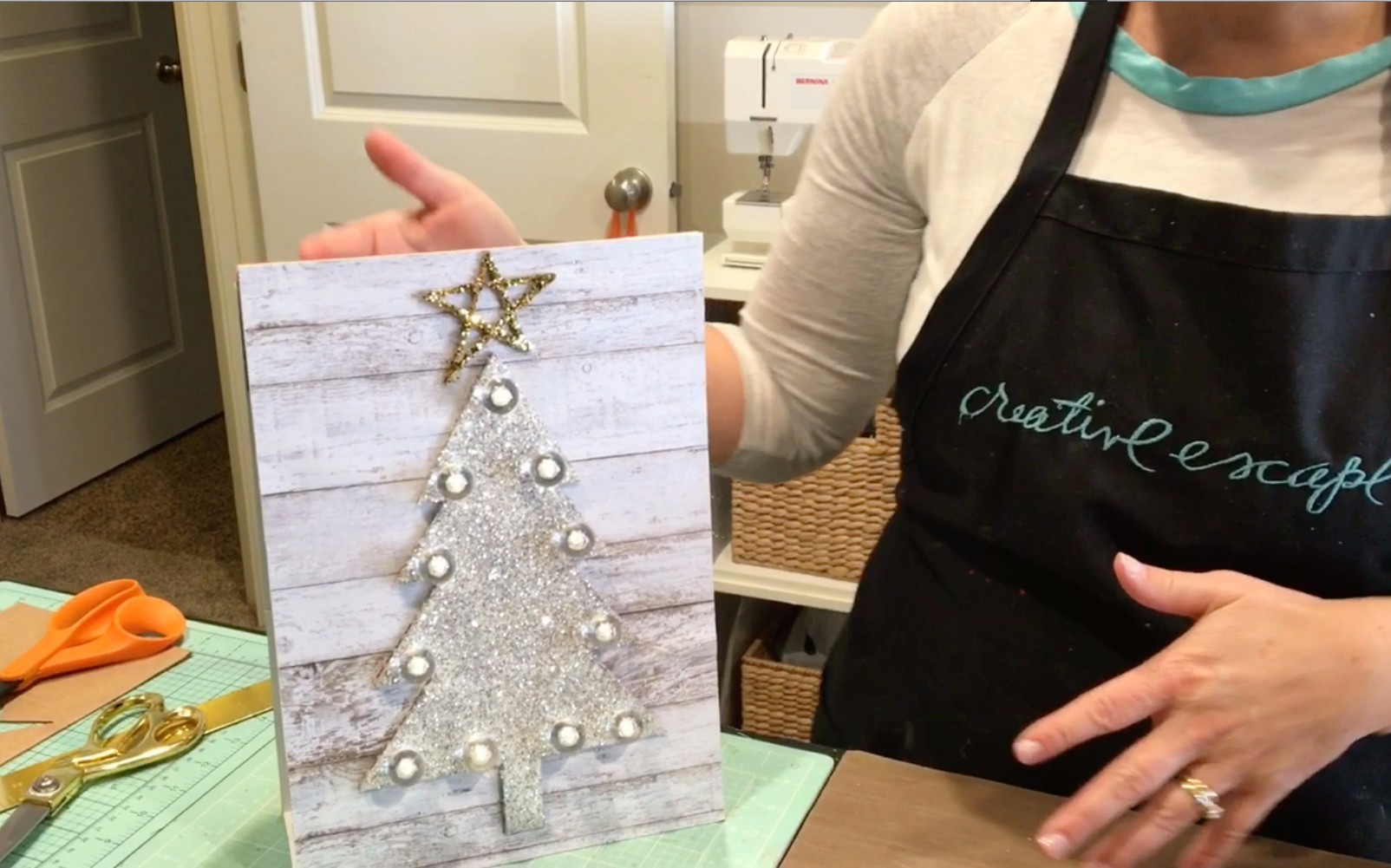 Join us right now for a special discounted price, and DIY your holidays with love, Photoshop, and MPS!