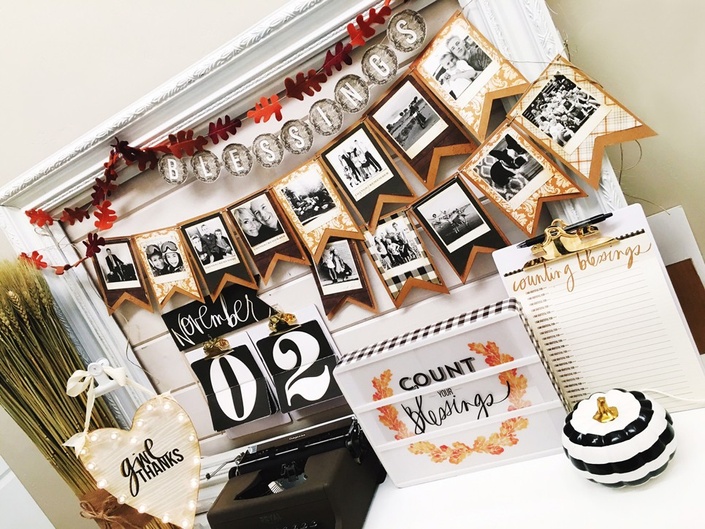 Mouse, Paper, Scissors: Holidays
Heidi + Jessica + You. 24 holiday decor projects
30% off! Original Price: $99
Well Hello There, DIY Goddess
(Or at least, you will be.)
You know the "just for display" table you have in your entryway? Or maybe it's in the hall, or in the living room. That one DIY table one we decorate (or want to decorate) for every season, every month. We Pin, we plan, we dream ... and we run out of time. You aren't alone: It happens to us all. That's why Heidi Swapp and I have teamed up for a special Holiday edition of Mouse, Paper, Scissors: we'll help you take that holiday decor table to the next level!
In this three-month class, we'll show you how to create a detailed, gorgeous, interactive, FUN display that will be the centerpiece of your holiday home decor. And then we'll do it again. And again. And again, for Halloween, Thanksgiving, Christmas, and New Year's. Check out the stuff you can expect: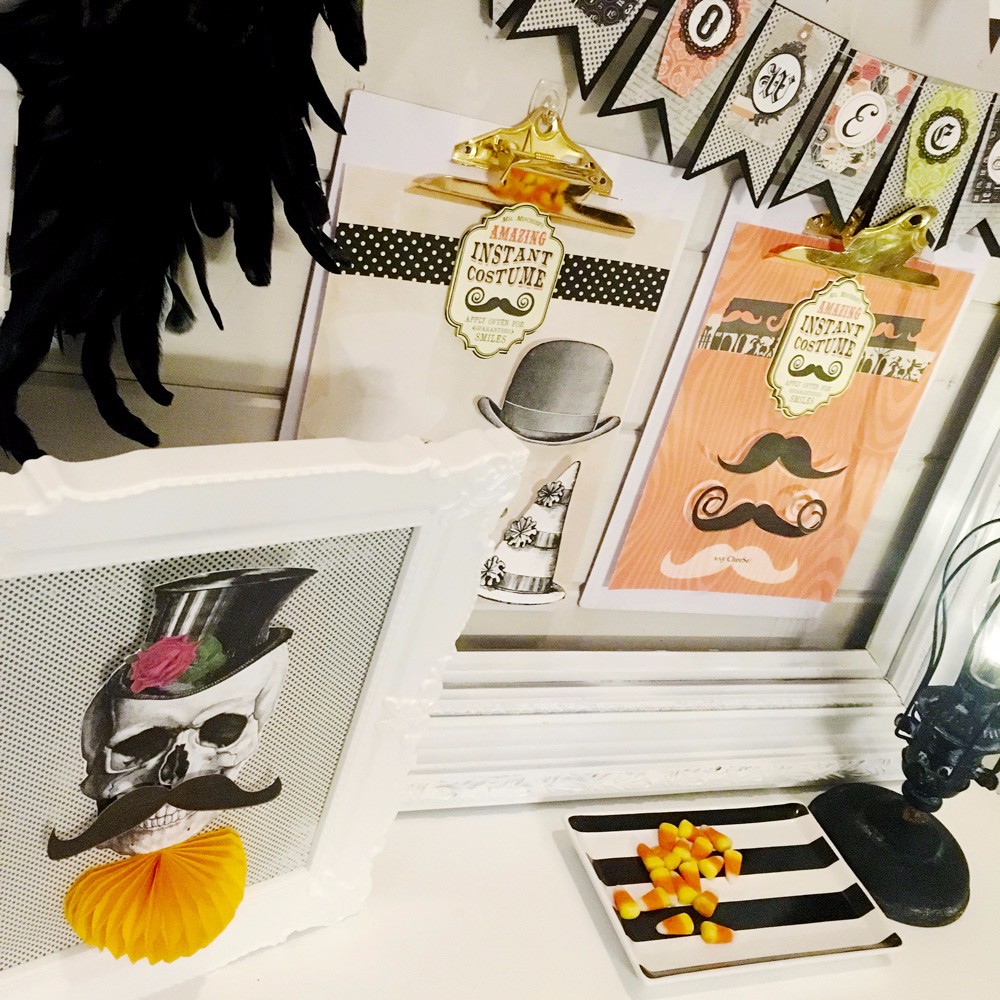 ---
Our Time-Saving Secret: Remixing

Of course we ALL want that freshly-Pinned look for our own homes, but the reality of life (family? work? what?) is that we NEED to be able to create in a manageable timeframe so we can get 'er done and get on to enjoying it. That's why Heidi and I have chosen SIX design elements that we'll reuse and remix for each holiday in our class. This time-saving secret gives you a jump-start for every holiday display you make, because it's the framework you'll build your entire display from.
First off, we recommend that you let go of the notion that you need to build every display by scratch. We say no way! By keeping focused on just a few DIY elements, we'll keep each display manageable, AND we can channel all our energy into making our remixes really shine! You will be AMAZED at what you can make with our focus on these six pieces, and you'll love how different each display is, even though we're starting from the same foundation. Here are the pieces we'll be playing with for each display, for all four months:
- The Heidi Swapp Lightbox
- The Heidi Swapp clipboard set (3 pieces)
- The Heidi Swapp marquee light strand
- A printable, DIY-able banner
---
What You'll Get in Class
We've got THREE MONTHS of class, and nearly two dozen projects to create together. In class, you'll receive all the digital artwork AND instructions you'll need to create four months of displays, plus styling tips for mixing in decor you already own. I'll show you techniques in Photoshop using fonts, brushes, and patterns to add your own twists to the printable materials, and then we'll get making! Heidi and I have each taken on the challenge of creating our own unique displays using the same artwork and techniques we show you in class, so you'll get TWO takes on the displays themselves. Of course, we'll provide you with detailed explanations in a video walkthrough, and we'll provide links to additional pieces or supplies we've used. Some of the dozens of techniques you'll learn include:

- How to size and print artwork onto transparency for the lightbox
- How to create your own printable lightbox art in Photoshop
- How to add interactivity to your displays with little extras such as velcro and magnets
- How to use Photoshop to add lettering, combine graphics, and even use digital elements to create printable artwork
- Our best advice on ink, paper, and process for printing great artwork every time
- And SO MUCH more!
This is a truly epic class, involving nearly two dozen projects across FOUR holidays, and we can't wait to show you! You will be a DIY display goddess in NO TIME.
---
Live Q&A with Heidi + Jessica
In November and December, Heidi and Jessica will host a live Q&A open to all the members of our class! You'll be able to ask questions about the projects, about other fun that Heidi and I have in store, anything you like!
---
Halloween: Heidi's Take
How about a preview? Here's Heidi's Halloween display, where you can see the remixable kit at work, PLUS all the great print-ready downloads you'll get to re-create this display. For a super-detailed walkthrough of Heidi's display, check out her blog post right over here!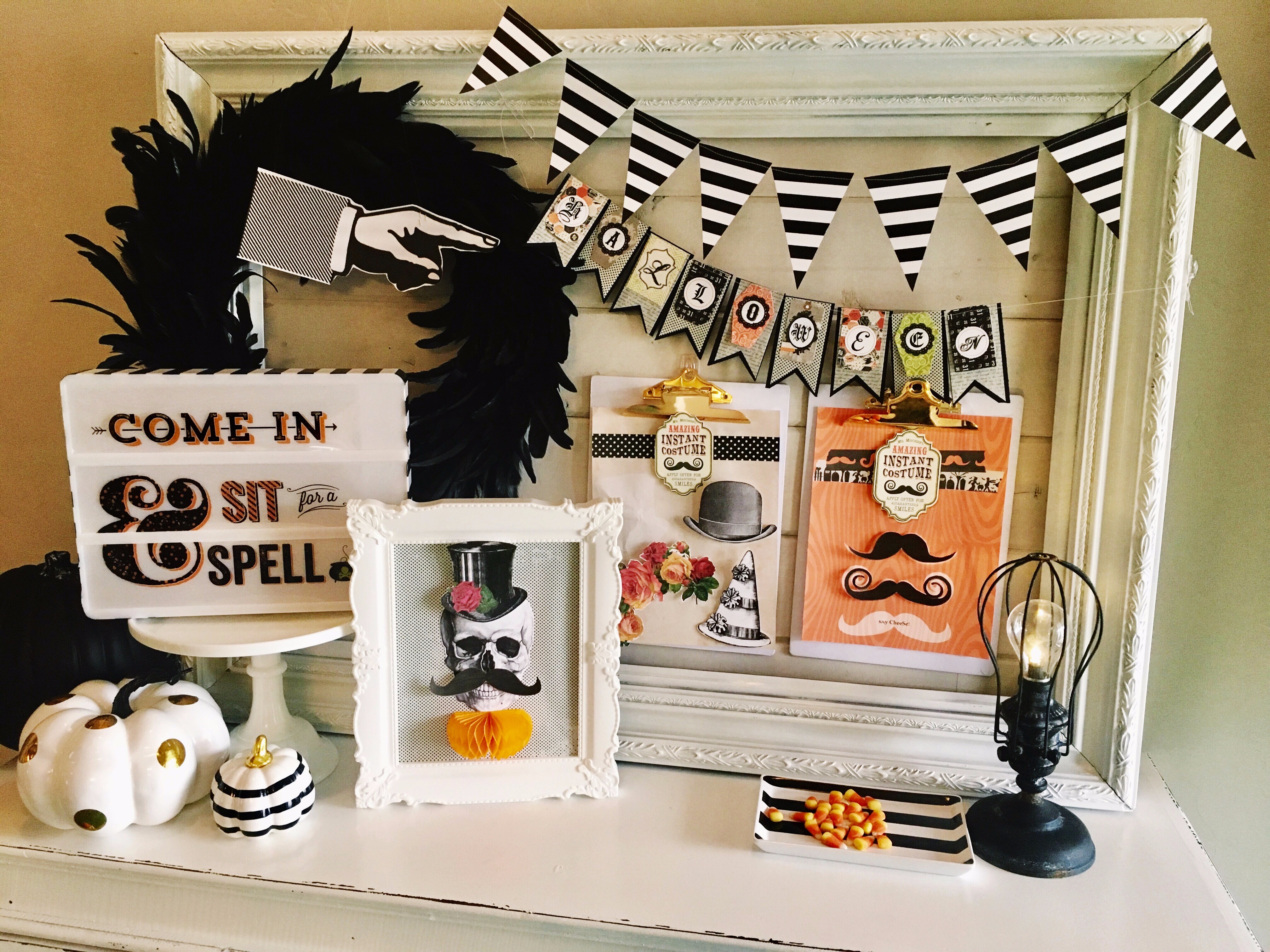 ---
Halloween: Jessica's Take
The downloads for Halloween are all print-ready, but that doesn't take ANY of the creativity away! Check out Jessica's take on Halloween! Instead of using the lightbox, I just printed out the full image (included in the downloads) onto presentation paper and framed it up!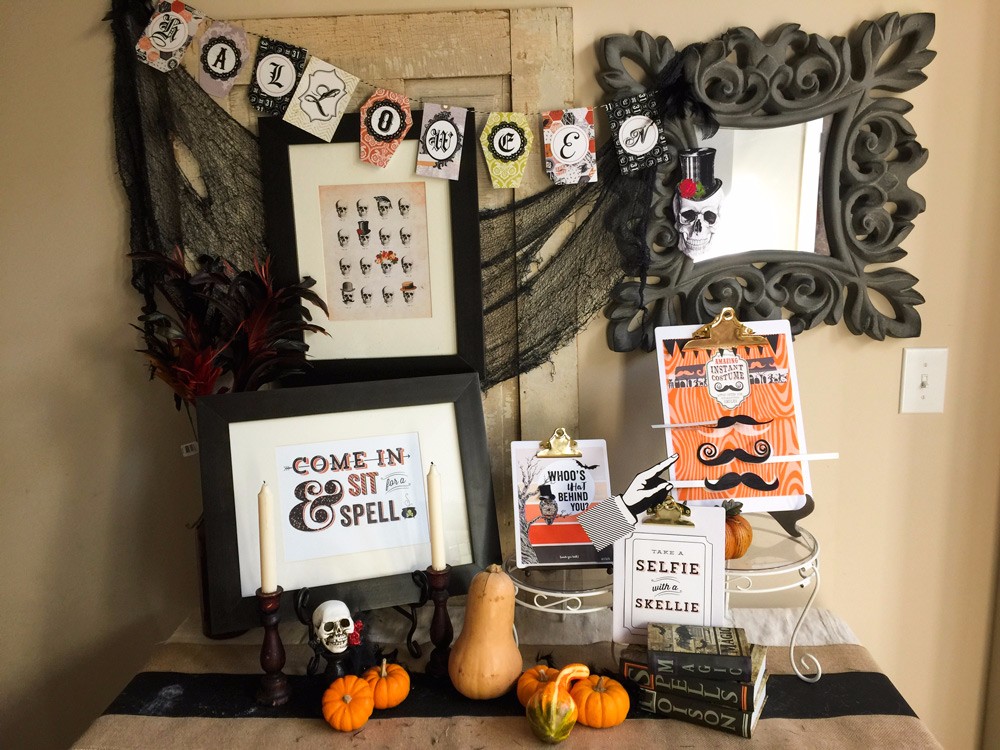 ---
What You'll Need
In this three-month course, you'll rely heavily on your own tech workhorses: your computer, Photoshop (or Photoshop Elements), and your trusty printer.
Does she have a name? Might want to give her one. Definitely treat her right, because she's going to be your workhorse for the next three months of class!
You'll also need basic supplies such as adhesive, trimmer, scissors, twine, a new set of ink (for your yet-to-be-named printer), and some paper to print on. We'll give you the whole list when you register, plus our suggestions for the supplies we use!
---
Free Halloween Printable!
Just to get you into the Halloween Holiday spirit, and to show you how GREAT the quality of the designs are in our course, here's a free 8x10 poster, featuring a creepy/adorable collection of skulls in hats! This is all set to print out as an 8x10, and is ready for framing and placing in YOUR holiday display! Check out the mustache on that fellow down below!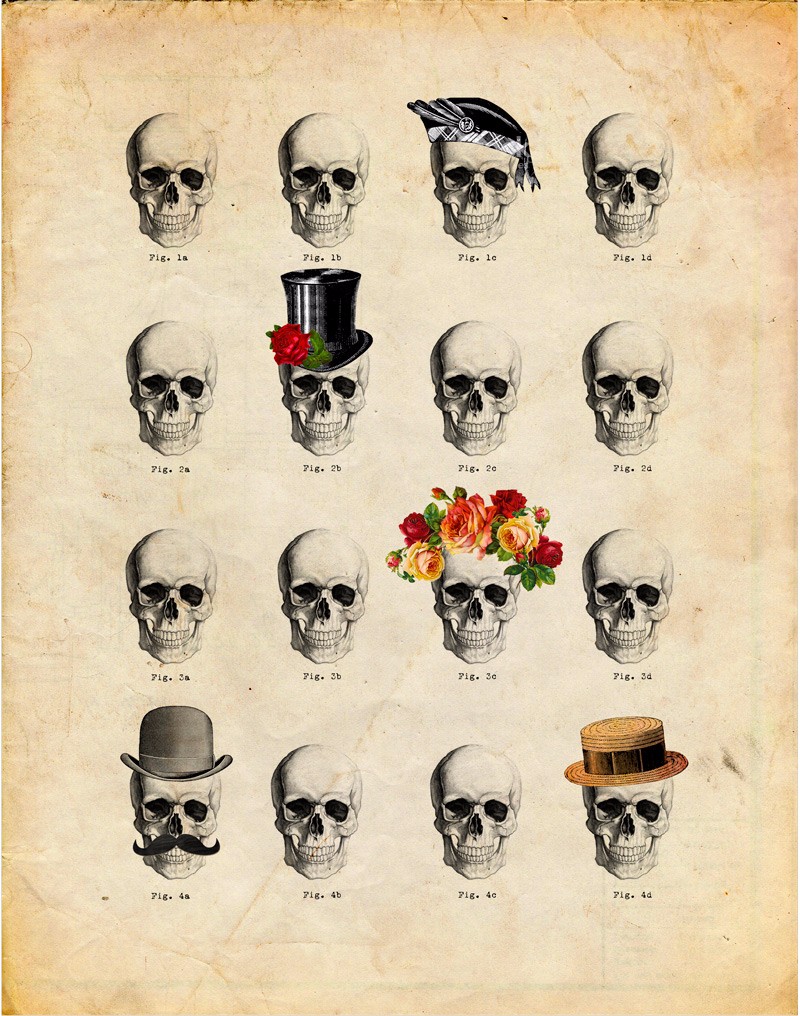 Click here to download the high-resolution 8x10 poster!
---
Inspiration + Learning + Fun, GUARANTEED
We are SURE you are gonna love this class. You'll receive all the downloads, video lessons, tips and tricks, & live webinars! Join us! And of course, if you aren't satisfied with the course you're backed by our 30-day refund guarantee!

---


Course Curriculum
Welcome
Available in days
days after you enroll
Your Thanksgiving Display: Overview
Available in days
days after you enroll
Frequently Asked Questions
Do you ship international?
Let's talk! Please use the contact link at the bottom of this page and shoot us a ticket with your home country. We'll let you know the extra cost of shipping, and go from there!
I have limited Photoshop experience. Is this class too advanced for me?
Nope! We won't do anything super complex in Photoshop - you'll find super-valuable, real-world techniques that will get your projects out and up onto your walls in no time!
When does the course start and finish?
The course starts now and never ends! It is a completely self-paced online course - you decide when you start and when you finish.
How long do I have access to the course?
How does lifetime access sound? After enrolling, you have unlimited access to this course for as long as you like - across any and all devices you own.
Amazing Inspiration, Awesome Value
Each month centers on the six foundation pieces, which include the lightbox, the clipboards, the marquee lights, and the banner. That means FOUR months with SIX projects each, for a total of 24 complete projects. Imagine getting complete instructions for less than 6 bucks each!
The total cost of our three-month course is just $99.00
Can't wait to have you in class! Heidi Swapp and I have taught FOUR classes together, in a collection we like to call Mouse, Paper, Scissors. Heidi as you know, is a legendary designer, an amazing crafter, and one of the most real, down-to-earth women I know. She is a superhero in so many of the senses of that word, and it's so exciting to teach a class with her again! We are looking forward to spending this holiday time with YOU!