Hi there, Photoshop Goddess (or Guru)!
By now you've learned that our trusty workhorse Photoshop CC can go further than editing photos and making fun scrapbook pages. Much further.You might be selling or promoting items you've created in Photoshop or other design tools. Stuff you've made like greeting cards, posters, digital scrapbook templates. Or you have a blog. Or your own web site. Listen up, toots, cause you NEED to learn about Smart Objects. These little beauties are essentially a file within a Photoshop file, that enables you to drop an image right inside of a premade mockup. Like this:
---
Our Goal: Learn How to Edit Smart Objects
Basically we'll use mockups photographed and designed by other designers who did all the hard work, open them, and drop our own object in. So you want your poster to look like a printed poster sitting in a frame? Done.
There are literally hundreds of smart object mockups out there - I like Creative Market product mockups best.
You can edit mockups of every day designs, such as a desk with computer, flower pots, toys, and more. Add in a frame with a poster hanging on the wall, a screenshot of your screen on the monitor, photos of your products sitting in a frame on the desk, and more. What a great way to advertise products, decorate your blog or business pages, and more! These mockups are great for bloggers, Etsy sellers, Ebay sellers, photographers, and more! Take Photoshop CC further with your designs.
(Please note: this only works in Photoshop CC. It does not work in Photoshop Elements)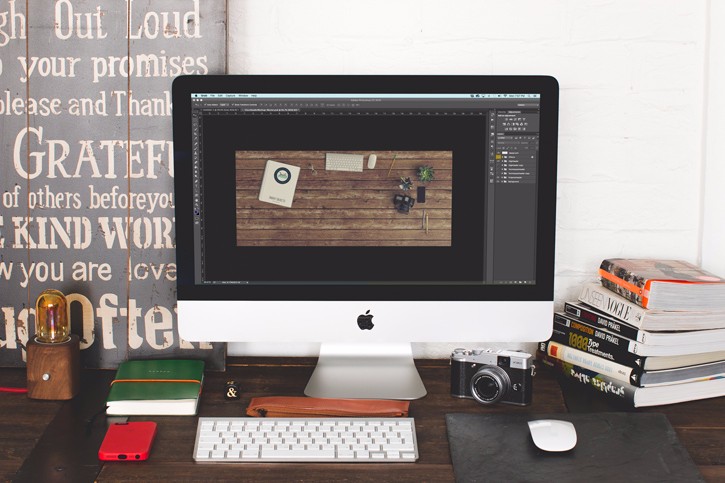 What To Expect in Class
This class will walk you through how to navigate through Photoshop CC to edit pre-made mockups. I'll show you how to add your photos and graphics to a few different styles of mockups, as well as create something to add to a mockup. By the end of class, you will also be able to identify which kind of mockup goes with your projects and photos. And more!
You'll receive:
Video instructions for opening, editing and adding to smart objects
A digital kit, which includes Mockup files and digital artwork
Templates and files to work on
Step by step instructions on how to learn this new set of skills
---
How To Prepare for Class
Here's what you'll want to begin gathering for this class. I'll provide you with guidance, as well as answer any questions you may have:
Photoshop CC. No other version of Photoshop will work with this course. If you would like to try it out, you can download the free 30-day trial of Photoshop CC 2015 from Adobe.com. You'll be able to take the class just fine!
I recommend that you take my Digi Beginner's Bundle before enrolling in this class. These classes will give you the following skills you'll need:
Opening, saving, and closing Photoshop documents
Resizing objects
Knowledge of the layers pallete
Drag and drop photos and projects
I'll Be Right There With You
Photoshop is intimidating, but I'll be right there with you. This course is broken down into manageable, easy to follow lessons, that allow you to practice your new skills. And once you have completed the course, it will always be there for you to refer to and refresh your skills. I love Photoshop and it's this love that I want to share with you! Register now, and I'll see you in class!
Learn more about gifting classes here.