Hope is an Anchor for the Soul
A smooth sea may never had made a skilled sailor, but what better way is there to inspire your loved ones than with this meaningful gift? Imagine your thoughtful poster hanging on the wall at your loved one's new home or their mantelpiece, motivating them every day. With the love and dedication you place in creating this one of a kind poster, you are sure to make a gift that will inspire!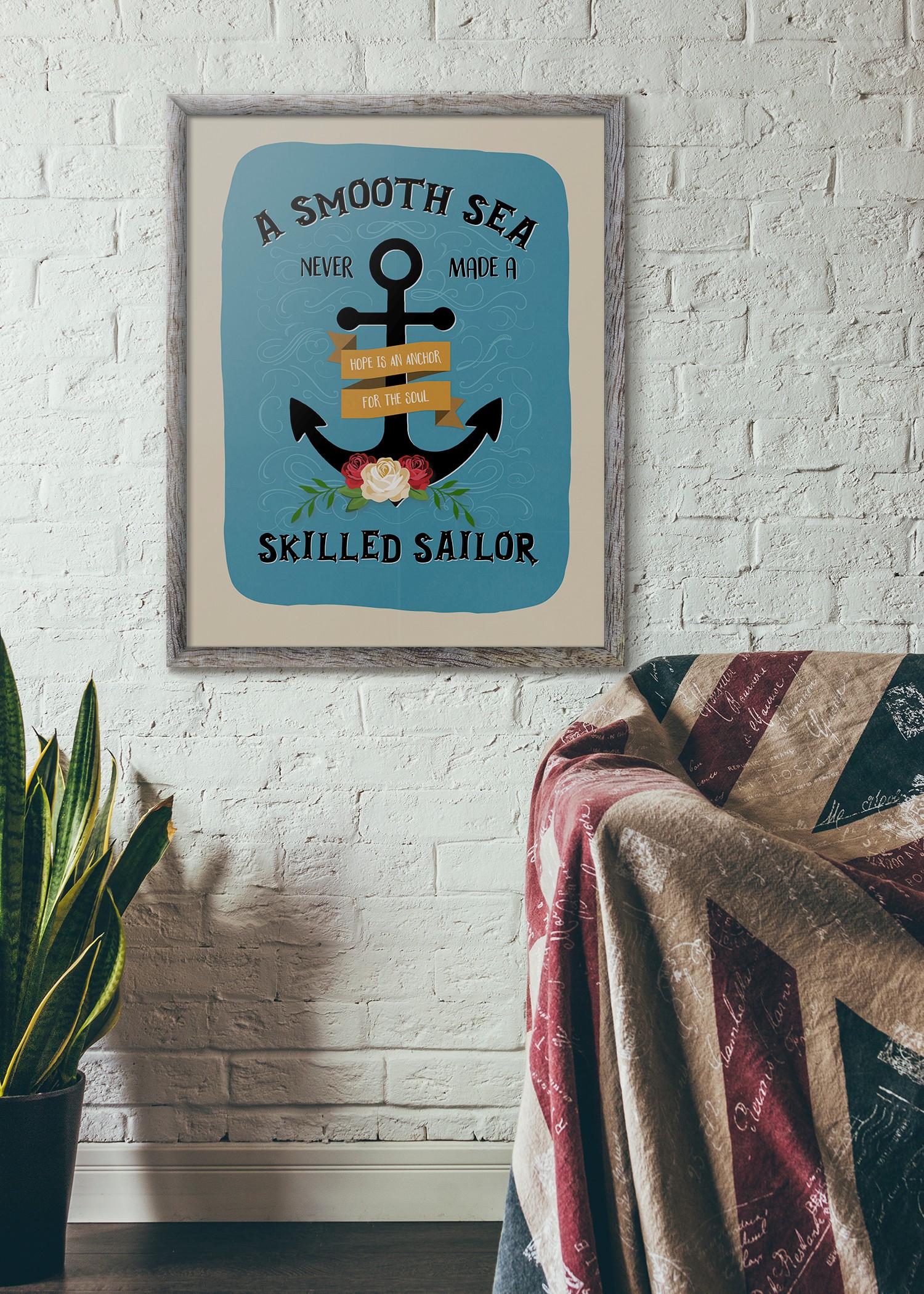 ---
Our Goal: Create Motivational Art Work for Your Walls!
In this self-paced, project-based class, you will use Photoshop to add embellishments to word art to create a large-scale poster. I will show you how to arrange the elements, resize and balance type, add the anchor center piece and use the Photoshop CC Glyph Palette to create the swirls background, as we create art for your walls! Smooth Seas is a beautiful 11x14 inch poster which you can print to hang in your home, or give as a special gift. It will inspire us to remain hopeful!. I'm so excited to share the techniques with you, AND to help you create this beautiful artwork.
What To Expect in Class
In this course I'll show you how to navigate the Photoshop CC Glyphs palette as we create this beautiful poster together. I'll show you how to:

Design a poster with an anchor center piece
Consider spacing, size, and alignment in typographic poster design
Create a wrap around ribbon
Insert a glyph
And more!
---
How To Prepare for Class
To create this project, you'll need Photoshop CC or Photoshop Elements. If you would like to try it out, you can download the free 30-day trial of Photoshop CC from Adobe.com. You'll be able to take the class just fine! I also recommend that you take my free Course 1: We've Just Begun class before enrolling in this class. It'll give you the following skills you'll need:
Opening, saving, and closing Photoshop documents
Resizing type and objects
Recoloring type
I'll Be Right There With You
The Smooth Seas Poster course is a great project for Advanced-Beginner or beyond Photoshop users! By the end of class, you will know how to use the Glyphs Palette to create gorgeous custom projects! How awesome is that? We love to see your photos and cherished albums, and with every JessicaSprague.com course, there are many different ways to get in touch to show off your art, or ask a question! Register now, and I'll see you in class!