Here's How I'll Help You Build Your Brand

I mentioned above that I've been developing a revolutionary method to help you develop YOUR Brand of You, from the brainstorming process, through the brand definition phase, and then finally to the actual development of brand assets and messaging, so you're ready to head out the door and land some sales! During our 10 weeks together, we'll be going through the whole process, just like I use with my private clients.
What makes this course so special is that instead of just designing your brand as a thought exercise, or learning how to use Photoshop on its own, you'll get the power of BOTH. Our course is divided into three parts: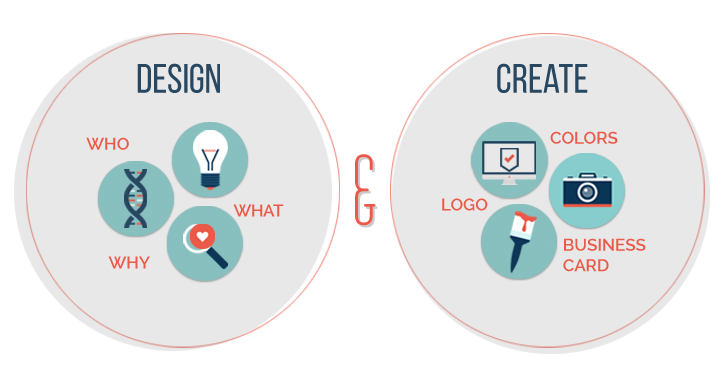 Part 1: DESIGN your brand
We'll spend our first four weeks of class thinking critically about who WE are, who our customers are, what we are offering them, and why. In this segment I'll help you craft your business vision, mission statement, and goals. You'll also start creating your business notebook.

Part 2: CREATE Brand Assets
A brand identity involves both visual and verbal messaging, so we'll work on both! We'll spend four/five weeks developing our color scheme, logo, business cards, and web site header. I'll also answer questions about developing a web site and other visual messaging. I'll also show you how to craft stories that provide clear and compelling messages to your customers. Plus you get to say, "I developed my own brand assets," in casual conversation. #stylepoints
Part 3: APPLY Your Messaging
In week 9 we'll talk about how to maintain a consistent brand voice, and how to measure the success of our branding and marketing efforts
In Week 10 we'll have a Brand Showcase, where each participant can post their brand visuals and stories, and receive feedback from other course participants.
---
How does Photoshop Fit In?
So the part of this that might both freak you out, AND get you really excited is the idea of learning to use Photoshop to accomplish some of your important brand assets. You don't need to have prior Photoshop experience.
So why do I care so much about Photoshop? It's just a program.
You're right, it is just a piece of software. But I must say, there's more to the skills you're learning than just putting another puzzle piece in, or checking another box on your to-do list. The skills and knowledge you gain in Photoshop will change your life forever. I sound like a wild-eyed fanatic, I know. But of all the things I could show you how to do - all the business roadblocks I could help you remove, showing you how to use Photoshop is the one I'd pick every time.
Here's why: the ability to use Photoshop to design and create for yourself gives you the skills and confidence to tackle graphic projects in every area of your life, for the rest of your life. I have taught THOUSANDS of students in Photoshop, and this has always been my goal: we are developing wings. By learning the techniques we use as we create your most fundamental, useful branded assets, you're also freeing yourself from being tied to a graphic designer for every little thing you need fixed or updated. Now THAT is creative freedom (and I'm even a graphic designer).
I'm not suggesting that you become a Photoshop expert, unless you want to. It's not even necessary (and frankly, that takes a lot longer than our 10 weeks together), if you'll focus on the techniques we work on in class. They translate easily into any other basic item you need to make, and THAT - that is our real definition of success.
So, more Photoshop Details, please? What if I'm in over my head?
I definitely get that this is the scary part. I've taught brand-new Photoshop users - tens of thousands of them, in fact, just like you! There is a set of basics that everyone needs to learn in order to be successful. I recommend that you complete my first digital class, because it'll show you how to accomplish basic tasks in Photoshop, like opening and closing documents, moving things from one file to another, and saving files in their proper formats.
As for our design projects for this course, I've chosen items that are fundamental to your business, and also of real practical value to your Photoshop experience. And for almost all of these, you'll download a template or other material that will get you up and running, and NOT staring at a blank page. Here's what we'll make:
1. Color scheme
2. Mood board
3. Head shot
4. Logo
5. Business card
---
I've been in business for myself for more than 10 years. When I say that out loud it astonishes me. I've been doing what I love for a decade. I've been my own boss, set my own schedule, built a school with nearly 60,000 subscribers, a Facebook feed of more than 20,000, traveled the country, and taught dozens upon dozens of online courses. I've had the opportunity over the last decade to help tens of thousands of people learn the skills and knowledge that I really believe helps them in their lives. That I really believe will help YOU in your life, and especially in your growing business. And as I move in to 2018 and my second decade of business ownership, I'm ready to pass along my experience and knowledge to other creative women in business! And that's where destiny brings people together.

I honestly believe that there are no accidents in this world. I'm putting a new course out there unlike any I've taught before, looking for the opportunity to help other creative business owners design and develop a brand they're ecstatic about, and you've come here through whatever means to (hopefully) take me up on that offer. Just as I've done with hobbyists for a decade (and continue to do! I love Photoshop for crafting and always will!) - I'm taking that same expertise in instructional design, web design, and graphic design to bring you a course I'm uniquely qualified to offer. And if you're looking to start or grow your amazing business in 2018, you're uniquely qualified to make the most out of the skills and knowledge you'll be gaining!