SPECIAL BETA COURSE PRICING: 10-WEEK COURSE for $349, or 3 payments of $119
(Regular price $549, a value of $1200+)
Are you thinking of starting or growing your creative business in 2018?

Then destiny really has made us BOTH an invitation! A great year awaits us both, and I can't wait to ring in the new year with something NEW.
I've been teaching online classes for ten years. A DECADE. And yet, 2018 will be different, because I've been busy developing an online course unlike any I've taught before. It's called The Brand of You, and I can't wait to share it with you! The Brand of You is built for creative women in business, to help you define, then build, and then apply your own brand in your business. After our 10-week course together, you'll have the brand clarity and focus to help you win the RIGHT kind of clients, AND the colors, logo, business cards, and imagery you need to accomplish just that! You will attract the right clients with less effort, and make more money doing just what you love: being the boss of you. Sound like fun? If this is making your heart beat a little faster, read on:
What makes the Brand of You so special is that it offers a dual approach to branding your business. In ten weeks, I'll show you how to define your brand in super-specific terms (read on for details), and THEN, I'll show you how to translate those definitions into real, actual, usable assets in Photoshop! You'll be able to define the look and feel of your brand and then create the actual color scheme you can use. You'll define your style and then choose the fonts and colors and make your own logo. I can't wait to show you. you'll start using right away. That's right - you'll be learning Photoshop as you develop your brand, building skills that translate into all the other visual aspects of your business, forever. Talk about a winning combo!
1. Define Your Brand with careful descriptions
2. Build Your Branded Assets in Photoshop
3. Apply Your Brand in practice in your business
My goal is help you define your brand, and then build the assets that show the world
WHO you are,
WHAT you sell, &
WHY they should hire you.
-Jessica Sprague
Does This Sound Like You?
But studies have shown that when people develop loyalty to a brand - "loyalty" is another word for trust - they'll be willing to go out of their way to seek you out, and be willing to spend both more time AND more money to work with you! Without clear and focused branding, you're not taking advantage of building loyalty from the very first moment a potential client comes into contact with you. But even knowing that, what's next? BUT Starting your own business - or growing one - is overwhelming, and "branding" might seem like just one more thing on that never-ending To-Do list. That's especially true if you throw in other regular-life things like oh, seeing your family sometimes, caring for a home, keeping people fed and clothed, perhaps going out into the community now and then, and all the other stuff we are constantly juggling.
You might have even have read during your research that "Branding is really important" (it is, you got that right), but then find yourself asking:
Who has time to sit and figure all this stuff out?
I am not creative: so is this someone else I have to hire?
And where do I even start with even getting "branded"?
Even if I have a cool logo, what about growing
GREAT Branding Isn't Complicated
Let's talk about what we even mean when we are talking about "getting branded." After we cut through all the jargon, at its heart, a company's brand is a crystal-clear, laser-focused answer to four basic questions:
Who are we?
Who is our client?
What do we offer?
Why should clients hire us?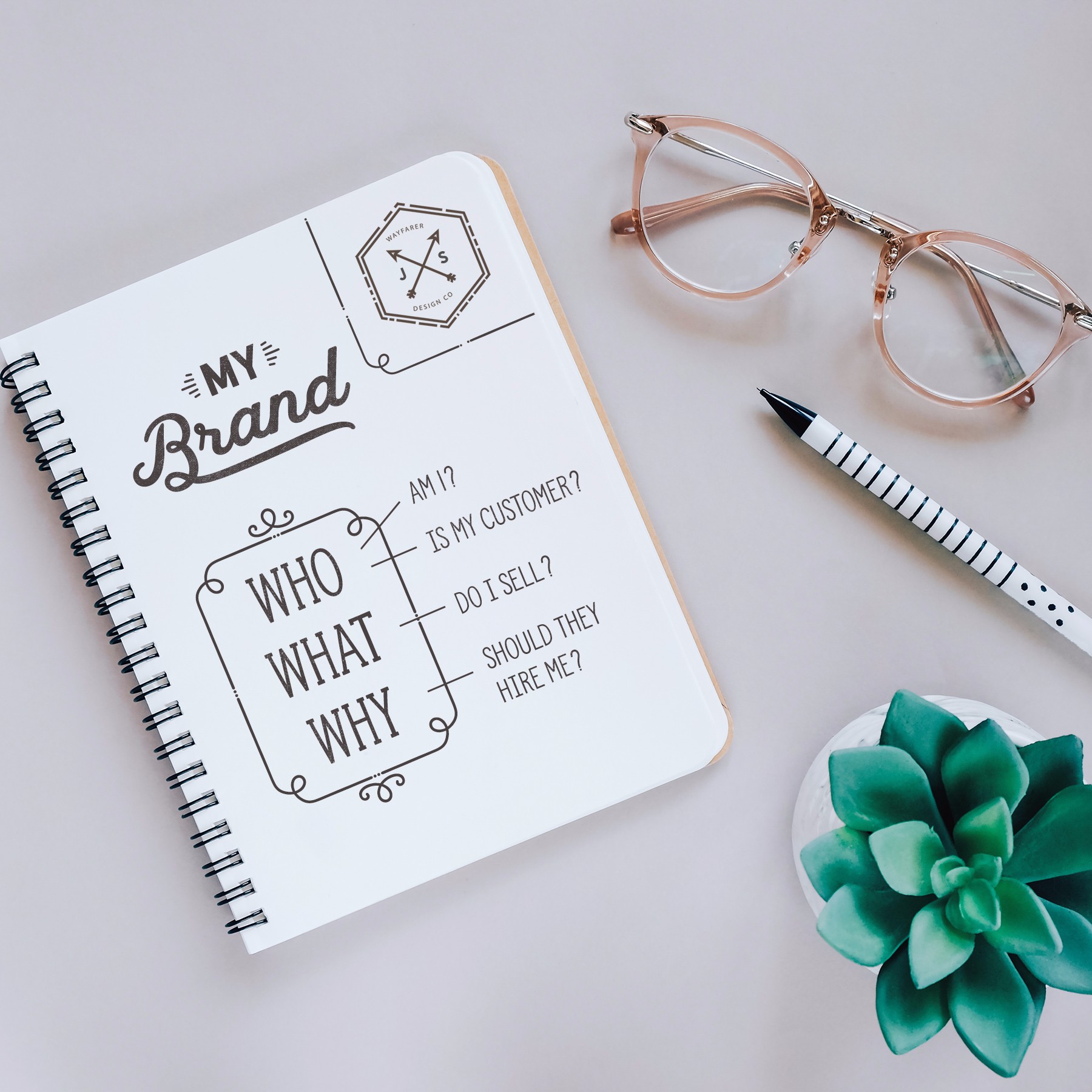 Wait - is that it?
That's right! A company's entire identity is based on just four things. Large companies have entire departments dedicated to answering these questions and keeping them regularly updated. They know (and now you do too) that without these answers, defined down to the smallest possible detail, they'll be wasting time AND money trying to attract and retainin the clients that truly fit them, out of the millions of could-be's and would-be's. That "any and all" approach is simply too expensive, and doesn't produce good results.
So, The 4 Questions. Then What?
After this crucial groundwork is laid, a company - that's you! - knows WHO, WHAT, and WHY, and they're prepared to start the REALLY fun stuff: Translating that information into the visual assets that SHOW (rather than tell) the world who they are. These "assets" include things like a color scheme, a set of logos, a web site, and a descriptive style. Everything a company does that is visible to the public follows from these guidelines. Everything.
So What is The Brand of You?
In some ways, your company is just like those big companies - they spend huge efforts in establishing a clear message for their customers, knowing that it's at the foundation of their success. It's SO IMPORTANT to gain the clarity that comes from the brand development process I outlined above. That clarity means more focus when you're looking for customers, better communication with them, more sales, and more repeat customers. A high-class company must present a high-class face from the moment you come in contact with the public world.
BUT unlike those big companies, branding your business is this is even more important, because this is YOUR deal. You have some real skin in this game, and what you're doing impacts your life and the lives of the people who love you in very real and tangible ways. You lose more nights of sleep. You are willing to take more risk, to learn as you go, to be humble as you hustle. But in exchange, you look your customers in the eye, learn their names, get the privilege of watching their lives improve because of what YOU do. That's the brand of you. Not just a brand. The Brand of You. Which reminds me:
You Are Awesome.
And before I keep going: You, my creative small-business friend, are amazing. Anyone who takes that leap of starting their own business has my undying admiration. I've owned my own business for 10 years, so when I say admiration, I mean it. You got this. You so got this. And I can help.
Here's How I'll Help You Build Your Brand

I mentioned above that I've been developing a revolutionary method to help you develop YOUR Brand of You, from the brainstorming process, through the brand definition phase, and then finally to the actual development of brand assets and messaging, so you're ready to head out the door and land some sales! During our 10 weeks together, we'll be going through the whole process, just like I use with my private clients.
What makes this course so special is that instead of just designing your brand as a thought exercise, or learning how to use Photoshop on its own, you'll get the power of BOTH. Our course is divided into three parts: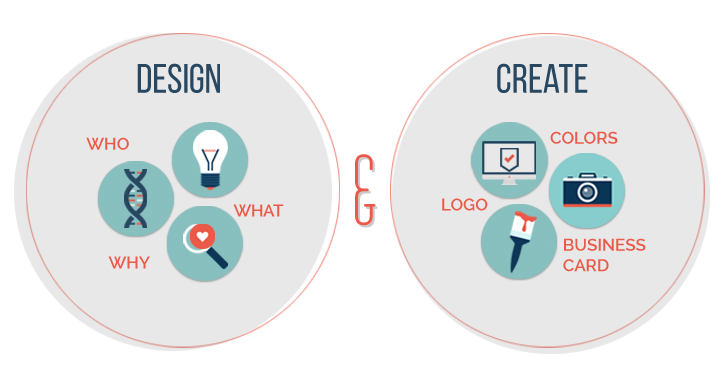 Part 1: DESIGN your brand
We'll spend our first four weeks of class thinking critically about who WE are, who our customers are, what we are offering them, and why. In this segment I'll help you craft your business vision, mission statement, and goals. You'll also start creating your business notebook.

Part 2: CREATE Brand Assets
A brand identity involves both visual and verbal messaging, so we'll work on both! We'll spend four/five weeks developing our color scheme, logo, business cards, and web site header. I'll also answer questions about developing a web site and other visual messaging. I'll also show you how to craft stories that provide clear and compelling messages to your customers. Plus you get to say, "I developed my own brand assets," in casual conversation. #stylepoints
Part 3: APPLY Your Messaging
In week 9 we'll talk about how to maintain a consistent brand voice, and how to measure the success of our branding and marketing efforts
In Week 10 we'll have a Brand Showcase, where each participant can post their brand visuals and stories, and receive feedback from other course participants.
---
How does Photoshop Fit In?
So the part of this that might both freak you out, AND get you really excited is the idea of learning to use Photoshop to accomplish some of your important brand assets. You don't need to have prior Photoshop experience.
So why do I care so much about Photoshop? It's just a program.
You're right, it is just a piece of software. But I must say, there's more to the skills you're learning than just putting another puzzle piece in, or checking another box on your to-do list. The skills and knowledge you gain in Photoshop will change your life forever. I sound like a wild-eyed fanatic, I know. But of all the things I could show you how to do - all the business roadblocks I could help you remove, showing you how to use Photoshop is the one I'd pick every time.
Here's why: the ability to use Photoshop to design and create for yourself gives you the skills and confidence to tackle graphic projects in every area of your life, for the rest of your life. I have taught THOUSANDS of students in Photoshop, and this has always been my goal: we are developing wings. By learning the techniques we use as we create your most fundamental, useful branded assets, you're also freeing yourself from being tied to a graphic designer for every little thing you need fixed or updated. Now THAT is creative freedom (and I'm even a graphic designer).
I'm not suggesting that you become a Photoshop expert, unless you want to. It's not even necessary (and frankly, that takes a lot longer than our 10 weeks together), if you'll focus on the techniques we work on in class. They translate easily into any other basic item you need to make, and THAT - that is our real definition of success.
So, more Photoshop Details, please? What if I'm in over my head?
I definitely get that this is the scary part. I've taught brand-new Photoshop users - tens of thousands of them, in fact, just like you! There is a set of basics that everyone needs to learn in order to be successful. I recommend that you complete my first digital class, because it'll show you how to accomplish basic tasks in Photoshop, like opening and closing documents, moving things from one file to another, and saving files in their proper formats.
As for our design projects for this course, I've chosen items that are fundamental to your business, and also of real practical value to your Photoshop experience. And for almost all of these, you'll download a template or other material that will get you up and running, and NOT staring at a blank page. Here's what we'll make:
1. Color scheme
2. Mood board
3. Head shot
4. Logo
5. Business card
---
I've been in business for myself for more than 10 years. When I say that out loud it astonishes me. I've been doing what I love for a decade. I've been my own boss, set my own schedule, built a school with nearly 60,000 subscribers, a Facebook feed of more than 20,000, traveled the country, and taught dozens upon dozens of online courses. I've had the opportunity over the last decade to help tens of thousands of people learn the skills and knowledge that I really believe helps them in their lives. That I really believe will help YOU in your life, and especially in your growing business. And as I move in to 2018 and my second decade of business ownership, I'm ready to pass along my experience and knowledge to other creative women in business! And that's where destiny brings people together.

I honestly believe that there are no accidents in this world. I'm putting a new course out there unlike any I've taught before, looking for the opportunity to help other creative business owners design and develop a brand they're ecstatic about, and you've come here through whatever means to (hopefully) take me up on that offer. Just as I've done with hobbyists for a decade (and continue to do! I love Photoshop for crafting and always will!) - I'm taking that same expertise in instructional design, web design, and graphic design to bring you a course I'm uniquely qualified to offer. And if you're looking to start or grow your amazing business in 2018, you're uniquely qualified to make the most out of the skills and knowledge you'll be gaining!
This Course is For You If...
Are you a motivated, bootstrappy, roll-up-sleeves business owner? Ready for some challenge in building Photoshop skills you'll use forever? Then THIS is the course for you. By combining business development RIGHT ALONGSIDE the development of your online presence, you'll be up and running FASTER with the skills and confidence you need to win at your business.
Your Instructor
Hi there! I'm Jessica Sprague, owner and instructor here at JessicaSprague.com. I founded JessicaSprague.com in 2007 to share the creative potential of Photoshop for crafting. I've been teaching Photoshop and graphic design, photo editing, digital scrapbooking, e-commerce, and online school development for a decade. It's my goal to help you build the skills and knowledge that will last you a lifetime. Learn more about me. Are you ready to start the journey? Join me!
BETA COURSE: When I develop a brand new class, the first run-through is usually the most - fun! It's an opportunity for ME to learn, and to get your feedback when it's done. We all dive in with that extra little skootch of agility when it comes to quirks, knowing you're getting a screaming deal, AND extra doses of my attention as we work it through together. When this course leaves beta the price goes up. Way up.

I have a deep desire to help you focus your own company image, just like the big companies do. I'm determined to use my expertise in both business development AND graphic design to get the Brand of You in gorgeous, focused order, so you can step into the new year with your head held high and your best foot forward. Let's win 2018 together.
Gorgeous Branding = Making More Money. Plain & Simple.