What Happened This Year?
A lot can happen in a year! From first steps, to first days at school and beyond, it was a year of firsts, fun trips and family gatherings. Look back at the year and put those memories together in this customizable album!
Check out this awesome preview video of the album.

Our Goal: Document the Year in an Heirloom Album
Looking back at the year that was, we are going to create a fun, fantastic album that cherishes moments from the simple, quiet times to the extravagant events that you may have had. Simple enough to complete in a few hours, the album is also flexible enough for you to add your own personal touch. Because you build the photo and journaling areas, you can match the album's theme to your photos. Give your friends a personalized gift, lovingly crafted by your hands. In no time at all, you'll have a fully finished album that you can gift to someone!
---
What To Expect in Class
With step by step video instructions, this class will teach you how to draw your own photo clipping mask and journaling block, and create an adorable number embellishment for each page - all suited to your taste. Then you'll use the basic template you've created to quickly design multiple pages in the same style. Finally, it's just a matter of putting a few finishing touches and print, and assemble!
You'll receive:
Video instructions with step by step instructions
Templates for the album, including .PSD files
Digital Kit including papers and mix and match embellishments!
How To Prepare for Class
To begin this project, you will just need some family photographs and any version of Photoshop or Photoshop Elements. I also recommend that you take my free Course 1: We've Just Begun class before enrolling in this class. It'll give you the following skills you'll need:

Opening, saving, and closing Photoshop documents
Adding photos and using clipping masks
Adding type in a single line
Printing from Photoshop
I'll Be Right There With You
At the end of class, you will have a complete Year in Review album, which you designed, printed and assembled yourself! We love to see your artwork, and with any JessicaSprague.com class, there are multiple ways to reach out, share your work and ask questions! Enroll now and I'll see you in class!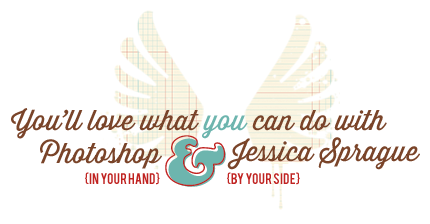 Learn more about gifting classes here.